Picturing Scotland:

Orkney
(2nd edition, Expanded and Revised)

Content: This book is arranged in the form of a journey around Orkney that begins and ends with what approaching (and departing) travellers see from the Scrabster to Stromness ferry. As Stromness is situated on the western edge of Orkney's Mainland, it is a good point from which to begin a broadly circular tour which takes in most of the 17 inhabited islands. There is an astonishing density of ancient sites from the Neolithic, Bronze and Iron Ages, coastal scenery that tests the credulity in its often gravity-defying qualities and pastoral vistas that sooth the senses. If those attributes were not enough, add in a charming capital with magnificent cathedral, a wealth of wildlife that will entrance nature lovers and a huge array of defensive remnants from both world wars. The book contains 110 pictures.

For a list of featured locations, see below.

Price: £ 5.99 plus shipping
Market: Books in this series are bought by visitors and locals alike to give as gifts or to keep for their own enjoyment. They are also helpful to those planning a visit as the book leads the reader on a geographical tour of the area. To visitors, they are a great reminder of a visit, while local people buy them to send to friends and family to show off where they live.

Author: Colin Nutt has worked in book publishing for over 30 years and has written/compiled around 50 books in this and other series. He lives in Elgin.
Photography: Colin and Eithne Nutt with additional contributors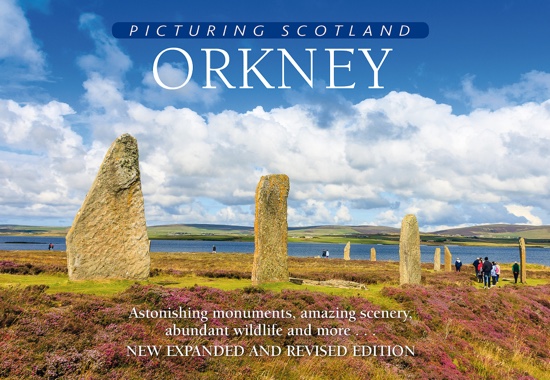 | | |
| --- | --- |
| Extent: | 112 pages |
| Binding: | Hardback |
| ISBN: | 978-1-78818-018-4 |
| Price: | £ 5.99 plus shipping |
Featured locations:
Barony Mill
Bishop' Palace, Kirkwall
Broch of Gurness
Brough of Birsay
Churchill Barriers
Corrigall Farm Museum
Deerness Coast and the Gloup
Dwarfie Stane
Earl's Palace, Birsay
Earl's Palace, Kirkwall
Eday
Egilsay
Hoy (with views from Hoy hills)
Italian Chapel
Kirbister Farm Museum
Kirkwall
Kitchener Memorial 2016
Lyness Royal Naval Cemetery
Maeshowe
Marwick Head
Midhowe Broch
Midhowe Cairn
Ness of Brodgar
North Ronaldsay


North Gaulton Castle
Old Man of Hoy
Papa Westray
Rackwick Bay
Ring of Brodgar
Rousay
Sanday
Scapa Distillery
Scapa Flow Visitor Centre
Shapinsay
Skara Brae
South Ronaldsay
South Walls
St Magnus Cathedral
St Margaret's Hope
Stones of Stenness
Stromness
Stronsay
Tankerness House
Tomb of the Eagles
Westray
Wyre
Yesnaby Castle
Colin Nutt, Ness Publishing, 47 Academy Street, Elgin, Moray, IV30 1LR
Tel: 01343 549663, Mob: 07962 014871, Email: info@nesspublishing.co.uk