Elgin: An
In-Camera

Book

Content: Elgin is a great place to live – there is always something of interest around the corner! Elgin has been in existence at least back to the time of the Picts and is steeped in history. It grew around its castle, located atop Ladyhill at the west end of town. Historically, this is where the mortally wounded King Duncan was taken after a battle with Macbeth, Earl of Moray, that took place at Pitgaveny, north of Elgin. Following Duncan's death, Macbeth then ruled Scotland until 1057.

The Cathedral, built from around 1224, was the other cause of growth. It was the third largest in Scotland after St Andrews and Glasgow and known as the 'Lantern of the North' as its light was visible for miles across the surrounding plain. The violent Wolf of Badenoch laid waste the Cathedral in 1390 and its ruins are currently in the care of Historic Environment Scotland. In more recent times Elgin has had a number of significant characters who helped to shape the future of the town such as Dr Anderson, a benefactor who founded The Anderson Institute and Dr Gray, founder of Dr Gray's Hospital. These are only two in a list of significant others who feature in Elgin's colourful history over many years. More recently, Elgin established an excellent tourist trail, 'Castle to Cathedral to Cashmere'.

This book is an inviting read with a short introduction and contemporary photographs supported by long captions which lead the reader through the book in a systematic trail around the town. Via the Northern Scot we asked local photographers to submit photographs for inclusion in the book and are delighted with the response – a real collaboration of the residents of Elgin.

What's in the book... Contemporary photographs of Elgin by Colin and Eithne Nutt and contributions from local photographers supported by lively text.

Price: £ 5.99 plus shipping
Reasons to buy... This book is aimed at locals and visitors alike to give as gifts or to keep for their own enjoyment. It will also be very helpful to anyone planning to visit the town. It will be a great reminder of a visit, while local people can buy them to send to friends and family to show off where they live.
Author: Colin Nutt is a local author and photographer who lives in Elgin. He has worked in book publishing for 44 years and created two other successful series in which he wrote and compiled more than 50 books. He and his wife Eithne started Ness Publishing in 2007 in Inverness and moved to Elgin in 2008 where they launched the acclaimed Picturing Scotland Series: a book for every part of Scotland. You can read more about our story on the About Us page.
Photography: Colin and Eithne Nutt with additional contributors.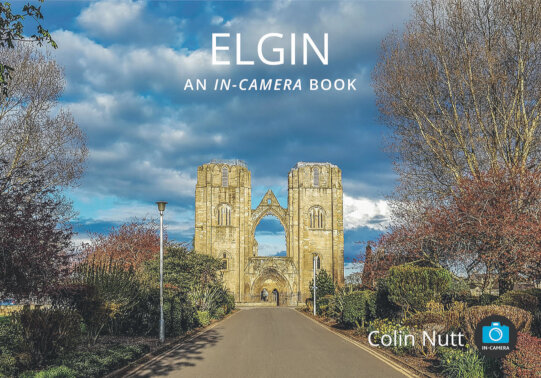 | | |
| --- | --- |
| Extent: | 80 pages |
| Binding: | Hardback |
| ISBN: | 978-1-906549-85-5 |
| Price: | £ 5.99 plus shipping |
What's featured in the book...
Biblical Gardens
Braco's Banking House
Braco's Close
Cooper Park
Dandy Lion sculpture
Dr Gray's Hospital
Duke of Gordon Memorial
Elgin Castle
Elgin Cathedral
Elgin Library
Elgin Museum
Elgin Station
Glen Moray Distillery
Gordon and MacPhail
Grant Lodge
Greyfriars' Convent and Church
Johnston's of Elgin
Ladyhill
Landshut Bridge

Little Cross
Moray College
Moray Motor Museum
Moray Street
Muckle Cross
Old Lodge Archway
Plainstones
Precentor's Manse (Bishop's House)
River Lossie
Shepherds' Close
St Giles' Church
The Anderson Institute
Thunderton House
Thunderton Place
Town Drummer sculpture
Walkers Shortbread Shop
War Memorial
Wolf of Badenoch Re-enactment Weekend
Wolf of Badenoch sculpture
Colin Nutt, Ness Publishing, 47 Academy Street, Elgin, Moray, IV30 1LR
Tel: 01343 549663, Mob: 07962 014871, Email: info@nesspublishing.co.uk