Picturing Scotland:

Sacred Scotland

Content: The theme of sanctity, as expressed in Scotland's ritual and sacred locations, is abundantly evident right across the country and its timeline stretches from earliest human pre-history to present-day practice. The aim of this book is to trace a path through the spiritual journey of Scotland's peoples, from over 5,000 years ago to the here and now. That's a big challenge for a small book, but hopefully it will serve to introduce the subject and open the door to deeper investigation.

For a list of featured locations, see below.

Price: £ 5.99 plus shipping

Market: Books in this series are bought by visitors and locals alike to give as gifts or to keep for their own enjoyment. They are also helpful to those planning a visit as the book leads the reader on a geographical tour of the area. To visitors, they are a great reminder of a visit, while local people buy them to send to friends and family to show off where they live.

Author: Colin Nutt has worked in book publishing for over 40 years and has written/compiled more than 50 books in this and other series. He lives in Elgin.
Photography: Colin and Eithne Nutt with additional contributors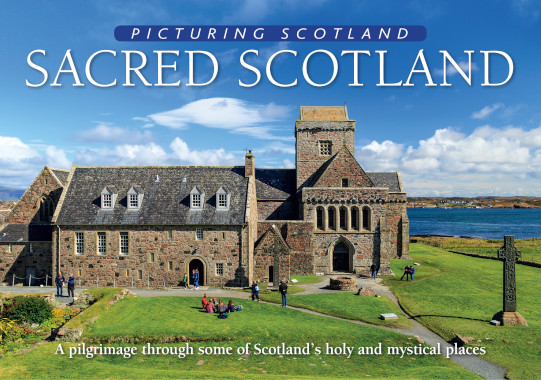 | | |
| --- | --- |
| Extent: | 112 pages |
| Binding: | Hardback |
| ISBN: | 978-1-78818-072-6 |
| Price: | £ 5.99 plus shipping |
Featured Locations:
Aberlemno Stone, Angus
Applecross, Wester Ross
Arbroath Abbey, Angus
Ardchattan Priory, Argyll
Bass Rock, East Lothian
Benvie Cross, Angus
Biblical Garden, Elgin
Church of the Holy Rude, Stirling
City Churches, Dundee
Culross, Fife
Dornoch Cathedral, Sutherland
Dryburgh Abbey, Borders
Dunblane Cathedral, Stirling District
Dunfermline Abbey, Fife
Dunkeld Cathedral, Perthshire
Dupplin Cross, Dunning
Eilean Donan Castle, Wester Ross
Elgin Baptist Church, Moray
Elgin Cathedral, Moray
Free North Church, Inverness
Hilton of Cadboll Stone, Easter Ross
Jedburgh Abbey, Borders
Kelso Abbey, Borders
Kilchoan Church, Ardnamurchan
Kilmartin House Museum, Argyll
Kintyre, Argyll
Loch Maree, Wester Ross
Melrose Abbey, Borders
Moot Hill, Scone Palace, Perth
Nigg Stone, Easter Ross
Old High Church, Inverness
Oronsay Priory, Isle of Oronsay
Orphir Church, Orkney
Pluscarden Abbey, Moray
Rosslyn Chapel, Midlothian
Round Tower, Abernethy
Round Tower, Brechin
Ruthwell Cross, Dumfriesshire
Seton Collegiate Church, East Lothian
St Andrews Cathedral, St Andrews
St Brostan's Well, Old Aberdour
St Duthac's Church, Tain
St Fillans, Perthshire
St John's Church, Perth
St Machar's Cathedral, Aberdeen
St Mary's Church, Haddington
St Mary's College, St Andrews
St Nicholas' Church, Aberdeen
St Salvator's College, St Andrews
Sweetheart Abbey, Galloway
Tarbat, Easter Ross
Whithorn and Isle of Whithorn, Galloway
Yester Parish Church, Gifford
Edinburgh:
Canongate Kirk
Greyfriars Church
Magdalen Chapel
Old Coates House
St Andrew's and St George's West
St Cuthbert's Church
St Giles Cathedral
St John's Church
Glasgow:
Glasgow Cathedral
Govan Stones
Queen's Cross Church
St Andrew's Roman Catholic Cathedral
St Mungo Museum of Religious Life and Art
Islands:
Calanais Stones, Isle of Lewis
Cathedral of the Isles, Isle of Cumbrae
Cill Chriosd, Isle of Skye
Duirinish Parish Church, Isle of Skye
Inchcolm Abbey, Inchcolm Island
Iona Abbey, Iona
Isle of Arran
Italian Chapel, Orkney
St Blane's Church, Isle of Bute
St Clement's Church, Rodel, Isle of Harris
St Columba's Church, Isle of Canna
St Dermot's Chapel, Isle of South Uist
St Magnus Cathedral, Kirkwall, Orkney
St Magnus Church, Egilsay, Orkney
St Moluag's Church, Isle of Lewis
Trinity Temple, Isle of North Uist
Paisley:
Methodist Central Hall
Paisley Abbey
St Mirin's Roman Catholic Cathedral
Thomas Coats Memorial Church
Colin Nutt, Ness Publishing, 47 Academy Street, Elgin, Moray, IV30 1LR
Tel: 01343 549663, Mob: 07962 014871, Email: info@nesspublishing.co.uk